Created on January 23, 2019
The 3rd New Junior High School Entrance Examination Seminar will be held on Sunday 17th February 2019 at Wayo Kudan Girls School.
Whilst looking back on the 2019 Junior High School entrance exam, we will look at the 2020 Junior High School entrance exam. Regarding the exam, we will share information that will help students' to develop their thinking ability to create their best possible future. This will require more attention from this point forward.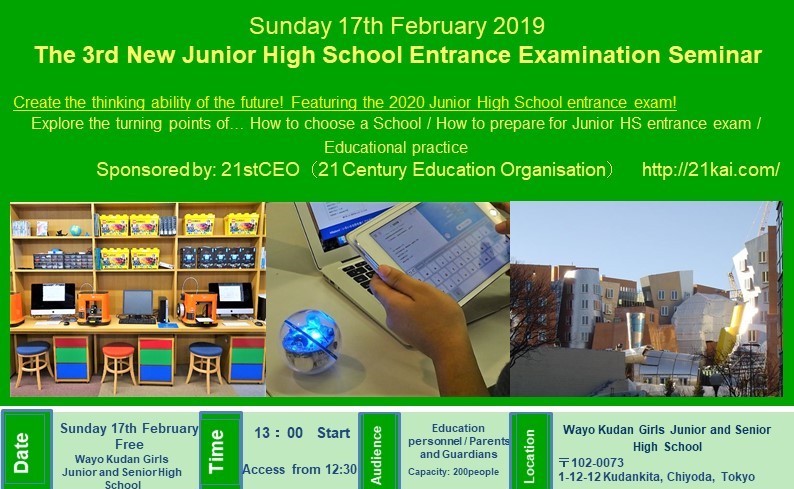 The "2020 Junior High School Entrance Examination Circle" has jumped on the 2020 University Entrance Examination wave of reform and will provide the basis for the 2020 Tokyo Olympics and Paralympics. Whether they like it or not, this year's students attempting the new Junior High School entrance exam will have to witness the dramatically changing scenery of this era.
The current Elementary School 6th grade students will have to face this drastic change when they turn 33 years old in the year 2040. This is just the beginning of the major transition of this era. In 2040, we will see the official arrival of the Artificial Intelligence (AI) society, which will replace many jobs that currently utilize knowledge and logic. People will be asked to demonstrate their learning by using their "creative thinking ability" as well as "the ability to manage the virtuous cycle of nature, AI society, and human spirit". In other words, will you be able to obtain a position managing the AI society, or will you be left behind?
The 2020 Junior High School entrance exam is the first passageway that connects to this new type of society. When we are stood at the entrance to the passageway, do we only study for the benefits that are right in front of us, or do we learn how to challenge the bigger picture behind the huge problem for benefits in the future? This is the point in our lives where we will be at crossroads.
Focusing on this huge problem, what can we do about it right now? There isn't a correct answer but, that is why we should all think about this question together. We can look at the changes in the new Junior High School Entrance exams, research the methods of choosing a new school, and consider the future lifestyles of the new students taking entrance exams. Let's share our ideas and achieve these things together.